Social Network of Machines
Context and challenges
Industry 4.0 has introduced a new era of interconnected manufacturing. The SOON project (Social Network for Machines) aims to enhance this interconnectivity by investigating the use of autonomous social agents, inspired by human social networks, to optimize manufacturing processes within the Industry 4.0 framework.
This project was accepted by CHIST-ERA (European coordinated research on long-term ICT and ICT-based scientific challenges) in the call BDSI (Big Data and process modelling for Smart Industry) 2017.
Objectives
Building on the foundation of Industry 4.0, the SOON project aims to achieve several key objectives to further enhance the efficiency and interconnectivity of manufacturing processes:
Create a holistic multi-agent paradigm for machines and humans to improve communication and collaboration in manufacturing environments.
Utilize deep learning and data mining algorithms for knowledge transfer between human operators and software agents.
Analyze big and heterogeneous data sets from various sources to support informed decision-making by agents.
Assess the impact of the proposed social network for machines on manufacturing process optimization.
Integrate the multi-agent paradigm within existing Industry 4.0 frameworks to enhance overall manufacturing efficiency.
Partners and funding
Institute of Informatics of the Slovak Academy of Sciences (Slovakia)
University of Oviedo (Spain)
University of Medicine and Pharmacy of Târgu Mureş (Romania)
Funded by the Swiss National Science Foundation, Slovak Academy of Sciences, Romanian Executive Agency for Higher Education, Research, Development and Innovation Funding, Spanish State Research Agency
Results
Novel auction/bidding approach for maximizing the factory production (Real-Time Scheduling of Manufacturing) & Reinforcement Learning solution.
Simulation of 3 industrial processes using auction agents/RL approaches
Multi-agent software architecture for deployment of intelligent agents
Wire rod mill rolls replacement model using a modified asynchronous backtracking algorithm (ABT) approach.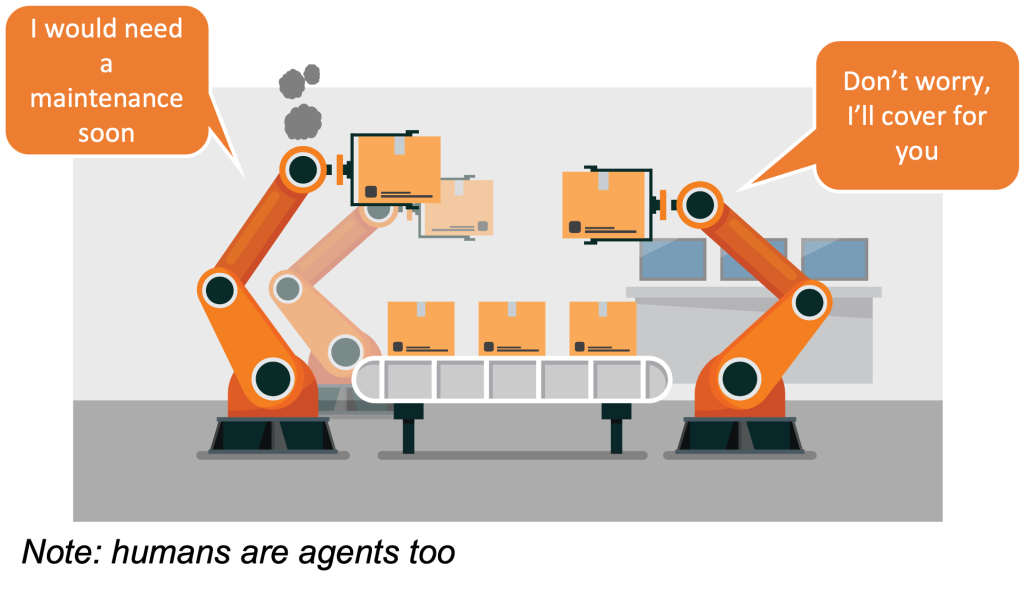 Valorization
Iantovics, L. B., Gligor, A., Montequín, V. R., Balogh, Z., Budinská, I., Gatial, E., … & Dreyer, J. (2022). SOON: Social Network of Machines Solution for Predictive Maintenance of Electrical Drive in Industry 4.0. Acta Marisiensis. Seria Technologica, 19(2), 12-19.
Ghorbel, H., Dreyer, J., Abdalla, F., Montequín, V. R., Balogh, Z., Gatial, E., … & Carrino, S. (2021, September). SOON: Social Network of Machines to Optimize Task Scheduling in Smart Manufacturing. In 2021 IEEE 32nd Annual International Symposium on Personal, Indoor and Mobile Radio Communications (PIMRC) (pp. 1-6). IEEE.
Carrino, S., Guerne, J., Dreyer, J., Ghorbel, H., Schorderet, A., & Montavon, R. (2020). Machining Quality Prediction Using Acoustic Sensors and Machine Learning. Proceedings, 63(1), 31.
Project Manager