Engineering Bachelor in Industrial Engineering and Management
The Industrial Engineering and Management program was designed in response to the increasing autonomy of manufacturing. It trains engineers capable of developing and managing a production tool using digital technologies.
Program
This Bachelor program favours a transversal approach to value creation, by integrating the human and environmental dimensions in order to improve the efficiency of industrial processes.
This Bachelor program is offered only by the Haute Ecole Arc Ingénierie and the Haute Ecole d'Ingénierie et de Gestion du canton de Vaud.
Major
Industrial Process Engineering Major
The search for efficiency in industrial processes is based on the autonomy of manufacturing, both through the automation of production equipment and the LEAN approach, while merging the cultures of the physical and digital worlds.
As an industrial process engineer, you manage and improve a company's production lines by optimizing manufacturing and assembly processes.
You draw on skills in production engineering, robotics, quality control and production management to improve the performance of costs, quality and deadlines, in order to achieve operational excellence.
Content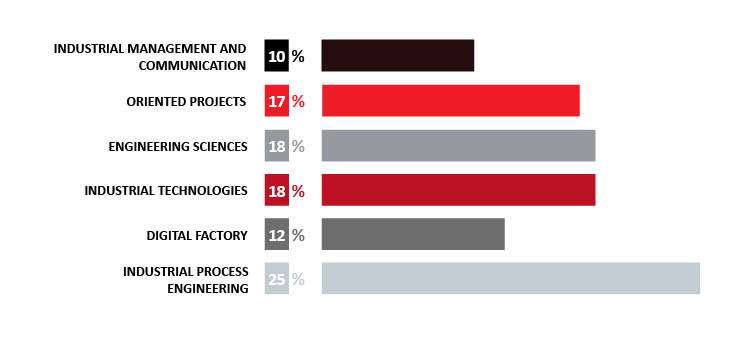 Industrial Process Engineering
You learn not only to understand, measure and optimize the various stages of a company's value chain, from its suppliers to its end customers, but also to manage all manufacturing processes, while integrating environmental, economic and societal dimensions.
Skills
During the Industrial Engineering and Management program, students develop scientific, technical and human skills in the field of production and industrial management.
Degree Awarded
Bachelor of Science HES-SO in Industrial Engineering and Management, mentioning the chosen major
In addition, students who choose to do a Bachelor's thesis in a company wishing to carry out an improvement project will also obtain the Green Belt certification in Lean Management.
Duration and Organization of Studies
The Bachelor's degree program lasts for three years on a full-time basis (including the Bachelor's thesis), with a common core for the first two years and a separation by major in the third year.
Admission
Registration deadlines
31 May (Swiss and EU residents) – thereafter, admission is possible depending on the number of places available
31 March (non-Swiss and non-EU residents)
Fees
150 CHF – Registration
500 CHF – Tuition (per semester)
Perspectives
The Industrial Engineering and Management program is in close relationship with the professional world, guaranteeing employability in various fields:
industrialisation: process engineer, methods engineer
production: production engineer, quality engineer
industrial performance: lean manufacturing and continuous improvement engineer
After completing this Bachelor's program, you can also enrol in a Master's program.
Industrial Process Engineering
Possible occupations:
design and improve production lines
manage team cells and autonomous teams
operational excellence specialist