Engineering Bachelor in Microengineering
Imbued with the DNA of the Jura Arc, the Microengineering program trains specialists in watchmaking and biomedical engineering whose skills are focused on precision.
Program
Whether in watchmaking or biomedical engineering, you specialize in the design and industrialization of high value-added and durable microengineering products. You appropriate unique know-how and cultivate the image of excellence of Swiss Made.
Majors
Watchmaking Engineering Major
The Jura Arc is the world centre of watchmaking. The Watchmaking Engineering program is unique in the world and focuses on innovation, added value and sustainability to guarantee the future of this centuries-old tradition.
As a watchmaking engineer, you design and develop mechanical and electronic movements, grand complications and watch casings for prestigious manufacturers.
You characterize, analyze and optimize the various functions of the watch, in order to make it more and more reliable and to make people desire to own a technical jewel.
Biomedical Engineering Major
Three centuries of watchmaking in the Jura Arc have woven microtechnologies into the region's DNA. Medical technologies (bio and medtech) are its heirs.
As a biomedical engineer, you design and develop innovative and sustainable medical devices that integrate multiple technologies and comply with current regulations.
These devices, implantable or not, are used for therapeutic or diagnostic purposes, for curative, preventive or predictive medicine.
Content
The first year is mainly devoted to the basic training of the engineer.
The second year reviews the specific technologies of microengineering.
The third year deals in greater depth with techniques related to the chosen major.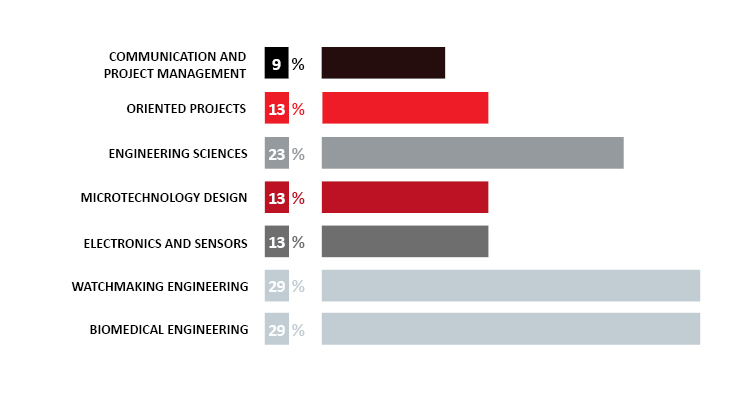 Watchmaking Engineering
You learn how to design or optimize the components of a watch, from its basic functions to the great complications that make luxury watchmaking one of Switzerland's economic engines.
Biomedical Engineering
You learn how to design and optimize medical devices, portable or implantable, which are often connected, and you learn about the regulatory framework of the medtech world.
Skills
During the Microengineering program, students develop skills in electronics, computer science, physics, microsystems and sensor technology, micromechanics and robotics, as well as in the field of materials.
Degree Awarded
Bachelor of Science HES-SO in Microengineering, mentioning the chosen major
Duration and Organization of Studies
The Bachelor's degree program lasts for three years on a full-time basis (including the Bachelor's thesis), with a common core in the first year and a separation by major from the second year onwards.
Admission
Registration deadlines
31 May (Swiss and EU residents) – thereafter, admission is possible depending on the number of places available
31 March (non-Swiss and non-EU residents)
Fees
150 CHF – Registration
500 CHF – Tuition (per semester)
Perspectives
The Microengineering program is in close relationship with the professional world, guaranteeing employability as project manager and development team leader in SMEs and groups specializing in microengineering products.
After completing this Bachelor's program, you can also enrol in a Master's program.
Watchmaking Engineering
Possible occupations:
design mechanical and electronic movements, grand complications and watch cases
characterize, analyze and optimize the various functionalities of a watch, make watchmaking products more reliable and create watchmaking innovation
design specific assembly and control means
design microengineering mechanisms in the field of fine watchmaking (casing, movement, complications)
develop test equipment in the watchmaking field to ensure quality control
Biomedical Engineering
Possible occupations:
design devices from sensors to final data processing
develop complex bioengineering microsystems for human use
manage the production chain of a medical device
ensure the quality management of the design and production of medical devices
provide technical support during the implementation and monitoring of a medical device